Pasteurizers for short, long and stuffed fresh pasta.
Advantages, disadvantages, and differences between fresh and pasteurized pasta
Pasteurization of fresh pasta is a heat treatment that will decrease the bacterial load present on the finished product, giving it a longer shelf life. We manufacture pasta-making machines for food pasteurization, with different technologies and application types.
Fresh pasta pasteurization, advantages and disadvantages
The main differences between a pasteurized product and a fresh one is the shelf life of the product, which, with a treatment such as pasteurization, can extend up to several weeks.
This process is necessary if fresh pasta is than sold to restaurants or supermarkets, increasing its shelf-life. In addition to "extending" the life of the product, this process will serve to give a hygienic guarantee to the consumer.
However, the pasteurization process has disadvantages, as the finished product may lose some organoleptic properties.
For this reason we have designed pasteurizers for pasta factories that, by using innovative treatment methods, are able to maintain product quality while increasing the energy efficiency of the production line.
Market trends
The market trend is increasingly moving toward offering fresh produce. As a result, even in fresh pasta companies, efforts are being made to reduce the intensity of heat treatments in order to offer pasta with organoleptic characteristics that are nearly equal to traditional unpasteurized pasta.
Therefore, very careful sanitation will be necessary throughout the entire pasta production process.
Pasteurizers for pasta plants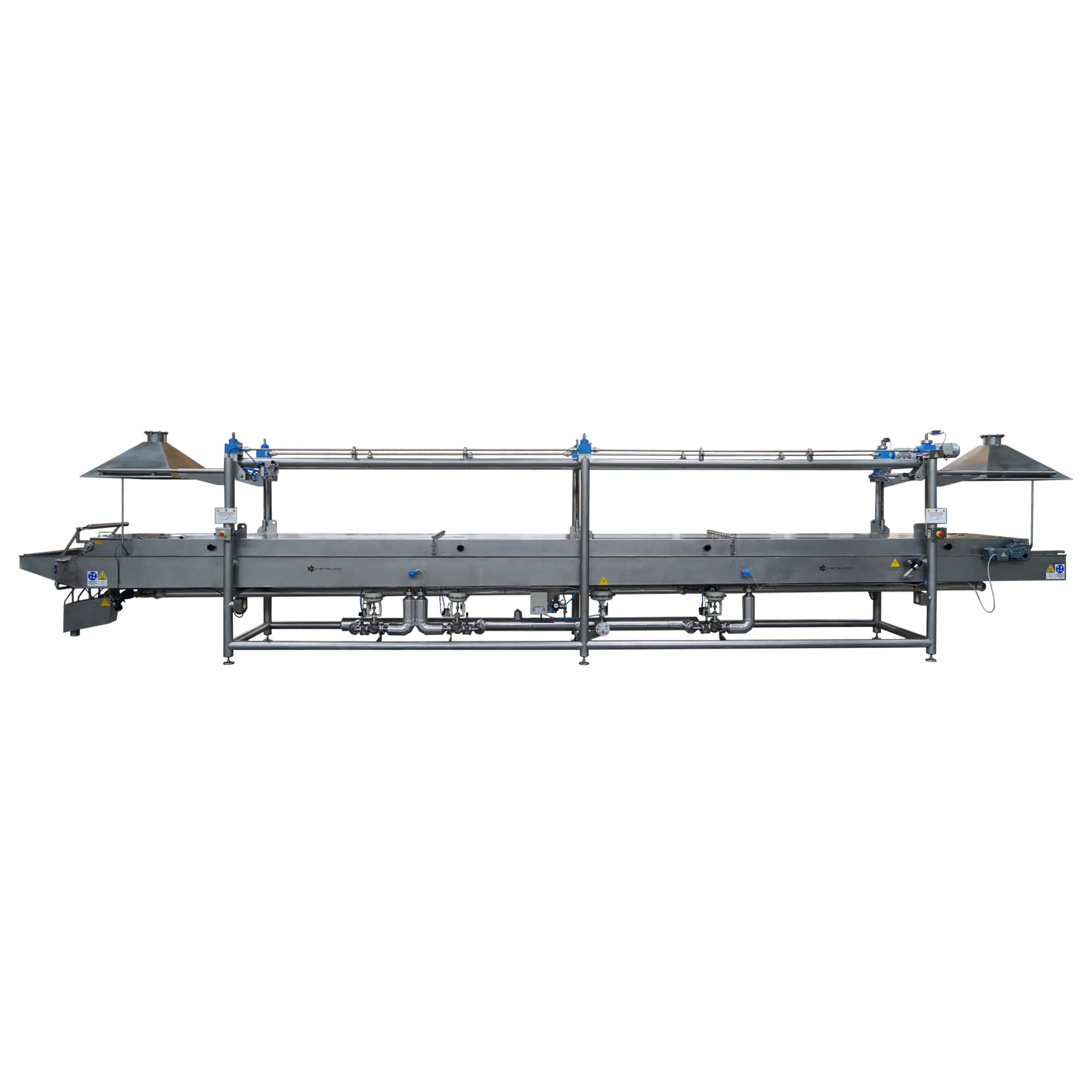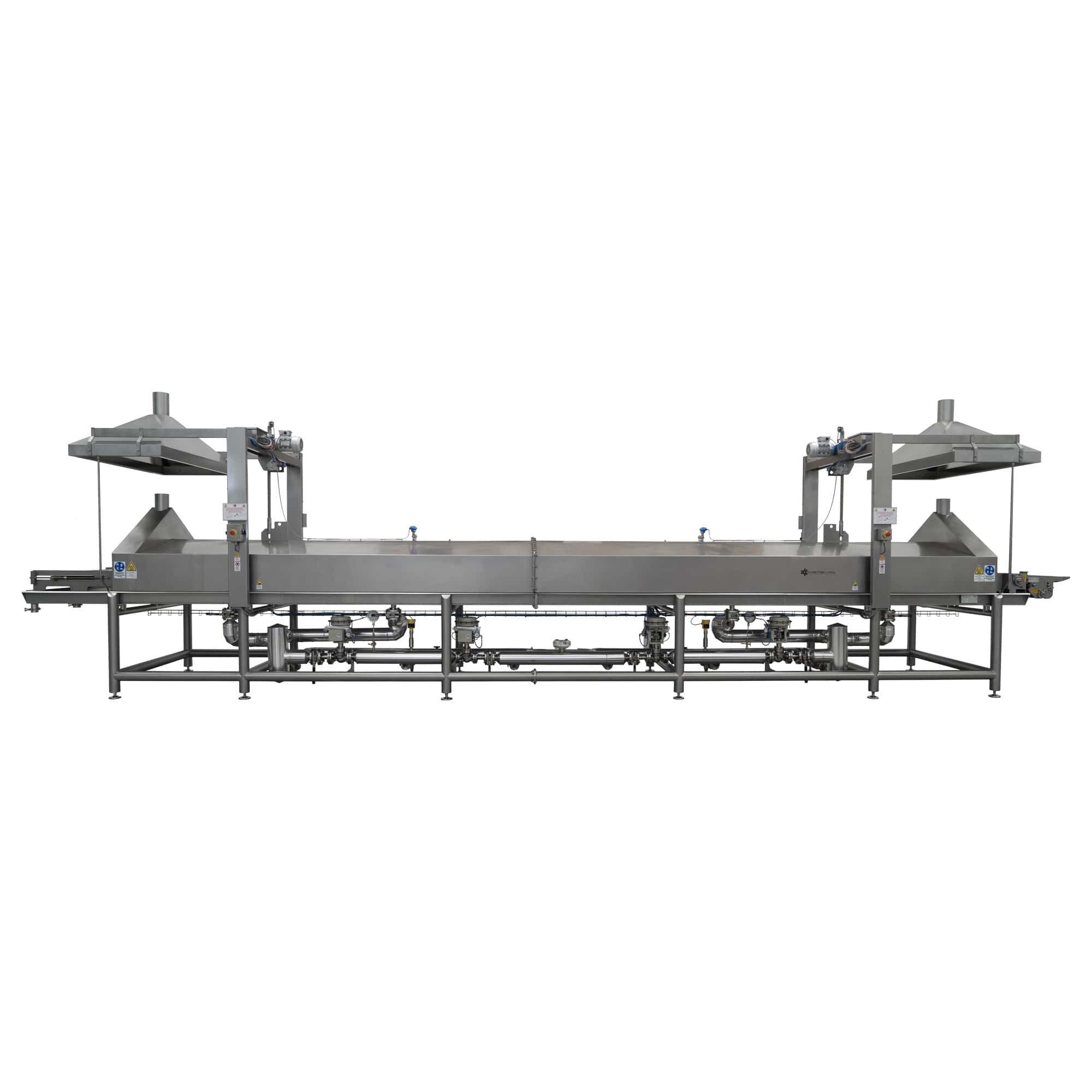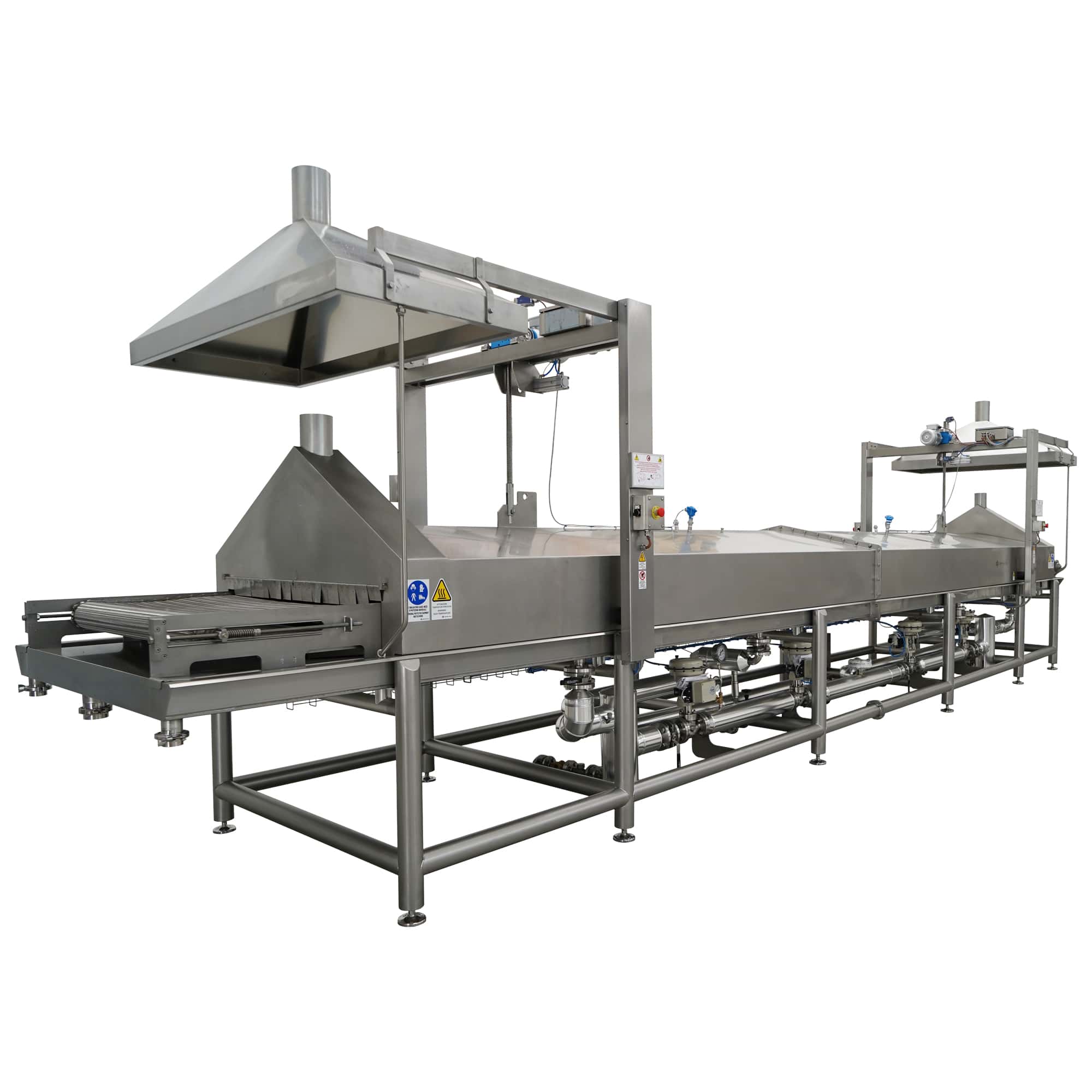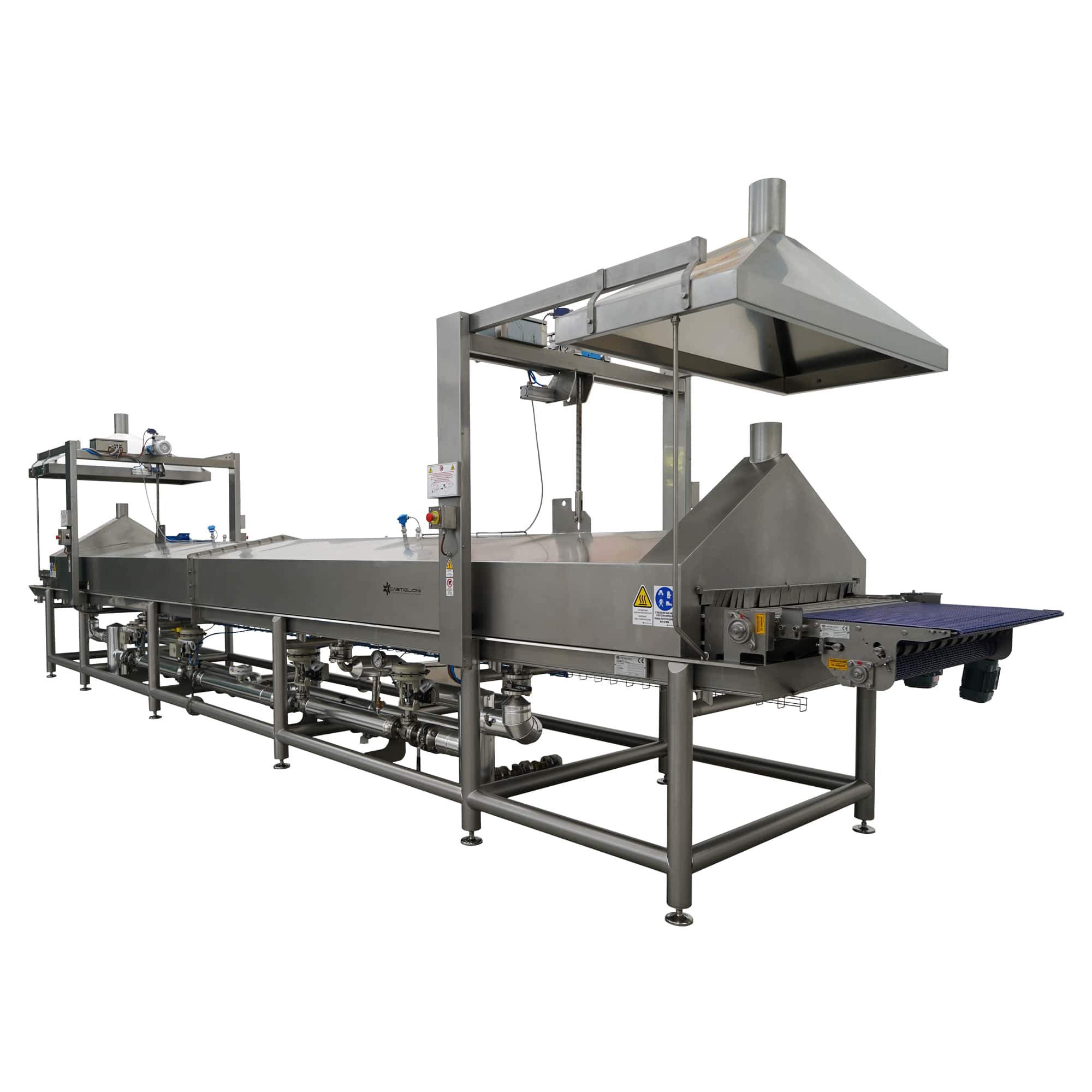 Linear pasteurizer for fresh and sheeted pasta
Linear fresh pasta pasteurizers allow their speed to be adjusted to the required processing time, using steam as the heat source.
In the case of linear pasteurizers, the machine will work with saturated steam, maintaining a constant temperature inside the treatment hood.
After the pasteurization stage, a drying area will follow that can be integrated into the pasteurizer or placed later.
Pasteurization times vary depending on the product to be obtained, from a few seconds to a few minutes.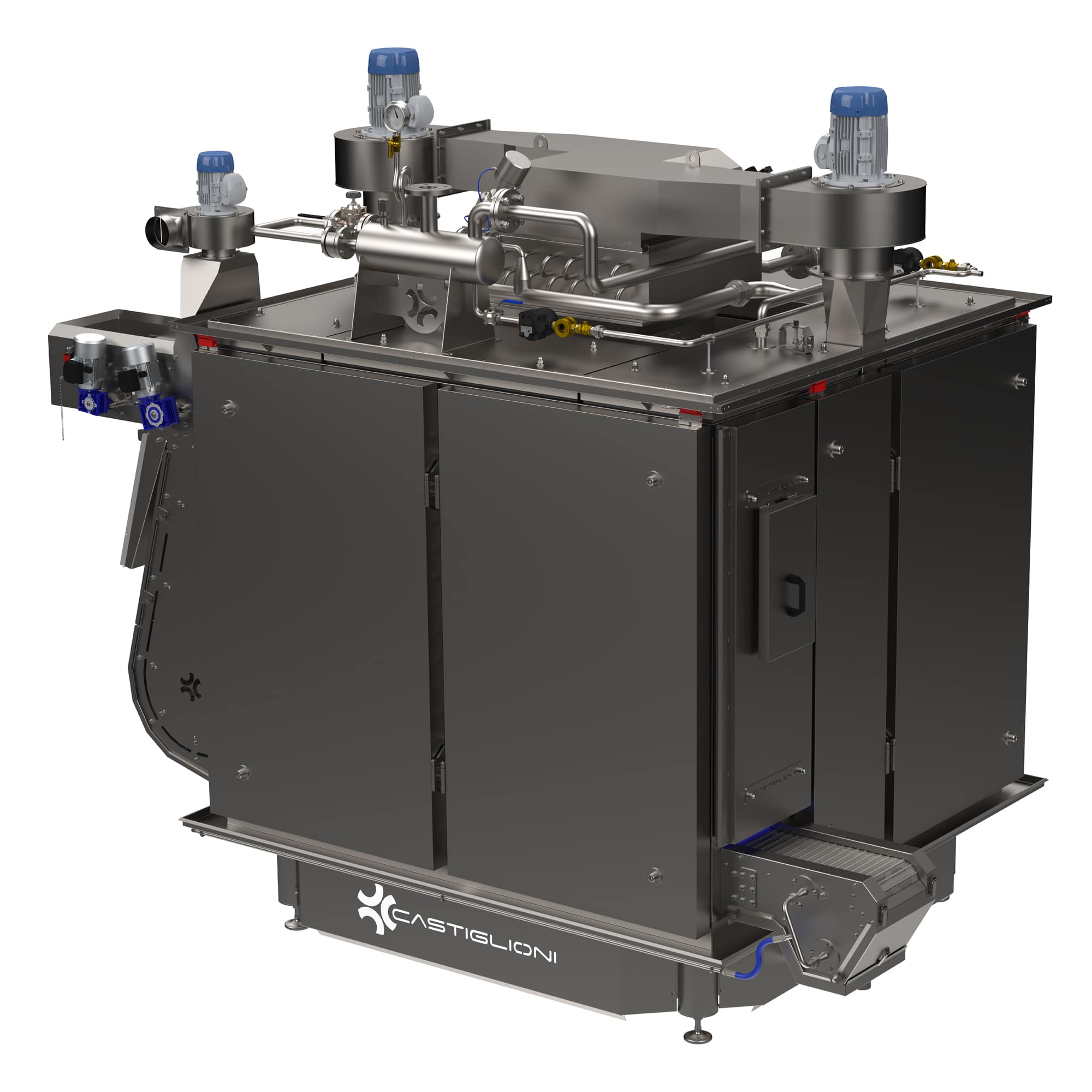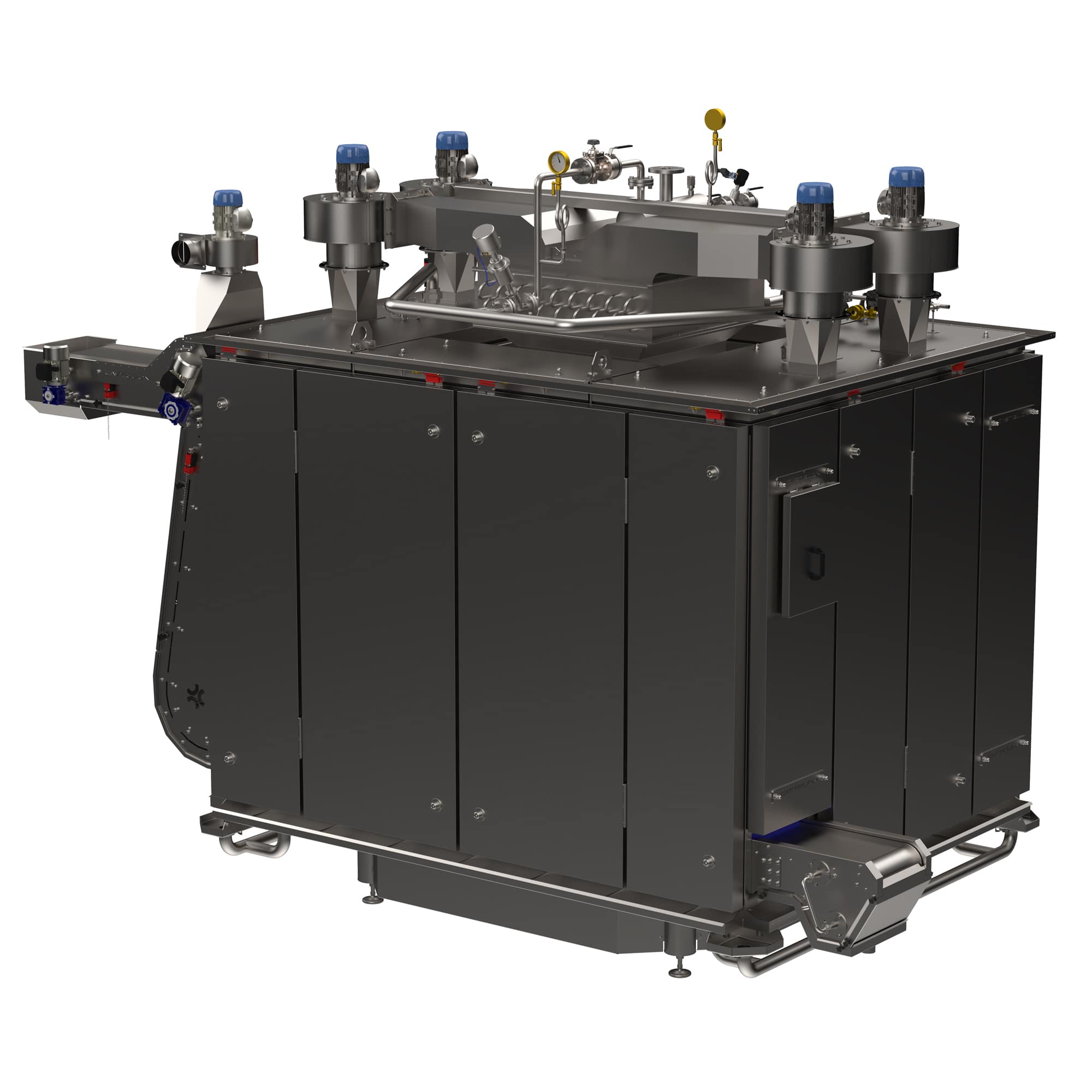 Spiral pasteurizer
Spiral pasteurizers for fresh pasta and industrial pasta makers make it possible to limit the consumption of steam used for the heat treatment stage. In addition, the design of the machinery reduces the footprint required for pasteurization within the plant.
Its internal structure involves a passage through a steam chamber, where the product will begin pasteurization, humidifying the dough and stimulating the gelatinization of starches. The degree of moisture is adjustable via PLC and can be adapted to different types of products, increasing the flexibility of the machine.
In addition, in the top part of the machine, there is a moist air zone well below the saturation level. This step allows the product to yield excess water and maintain the acquired pasteurization temperature.
In this way, the drying process is omitted, increasing the energy efficiency of the machine.